Freshen Up Your Foyer
Welcome the arrival of fall by freshening up a foyer table or entryway with chic and cozy decor pieces. From the lantern filled with mini pumpkins to the addition of bright white pumpkins on the bottom shelf, this entry table is the perfect way to celebrate the season.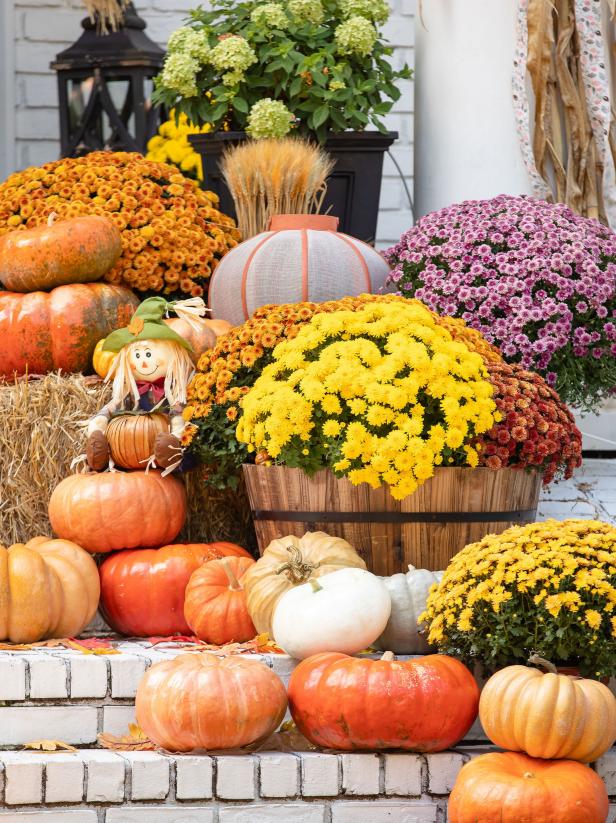 Mix Real and Faux
Layer your entrance or walkway with a cascading arrangement of the season's most festive colors. Half of the pumpkins seen here were purchased from a produce stand while the other half are faux pumpkins used year after year. Decorating your porch with both real and fake pumpkins is a budget-friendly design trick used to create a full and vibrant display.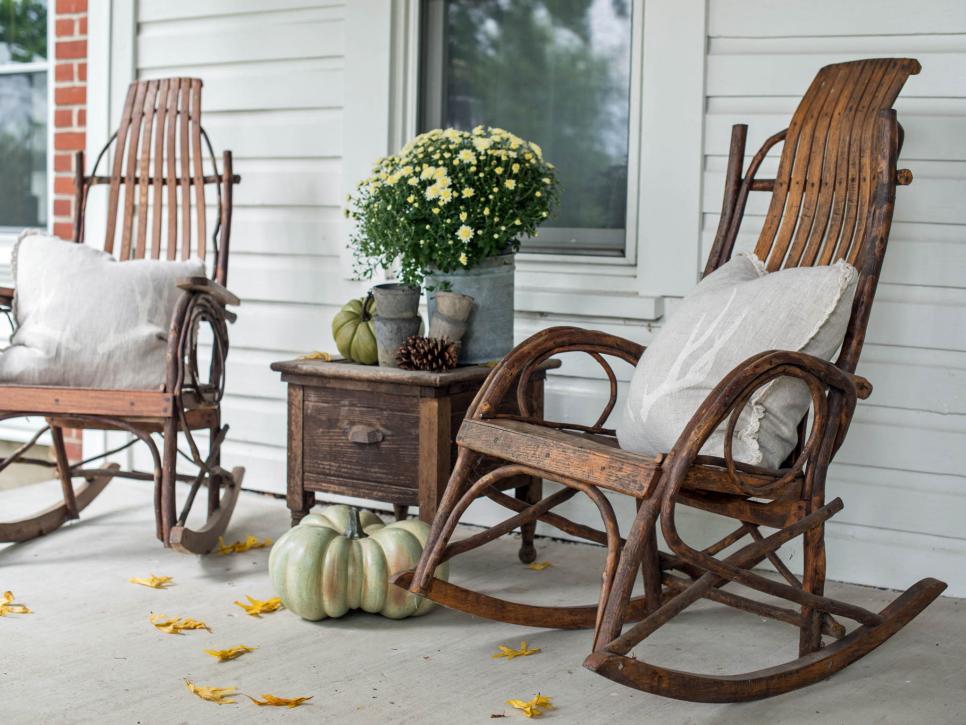 Keep It Classic
Heirloom varieties like this handsome Jarrahdale pumpkin are ideal for decorating, given their long shelf lives. Bonus: They're also a tasty component of everything from pies to stews if you get a kick out of eating your accessories.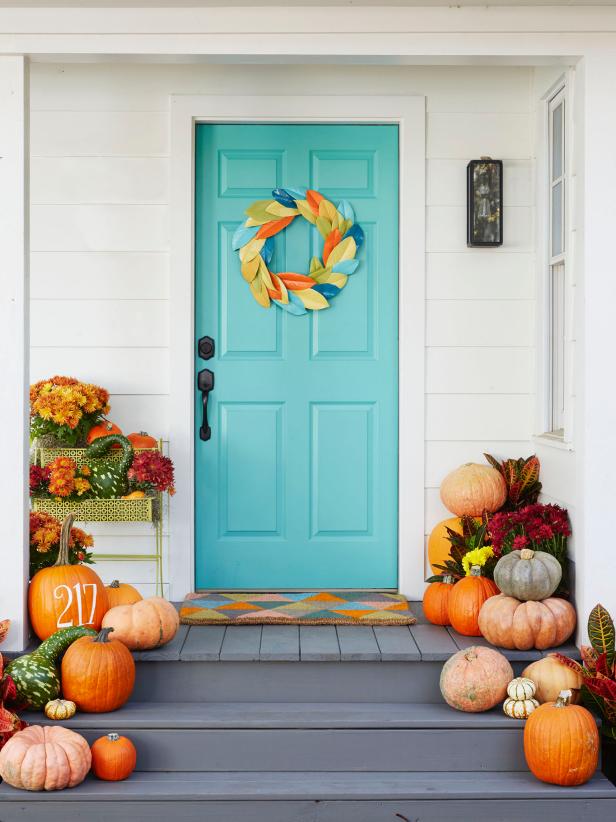 Pair With Plants
Straight from the pumpkin patch, piles of pumpkins and gourds pair perfectly with potted croton and mums for a fall-tastic entryway brimming with fun. A personal touch is infused in the display thanks to the addition of vinyl house numbers on a tall pumpkin. The cheery hues on this front porch, featured in HGTV Magazine, are sure to brighten even the rainiest of days.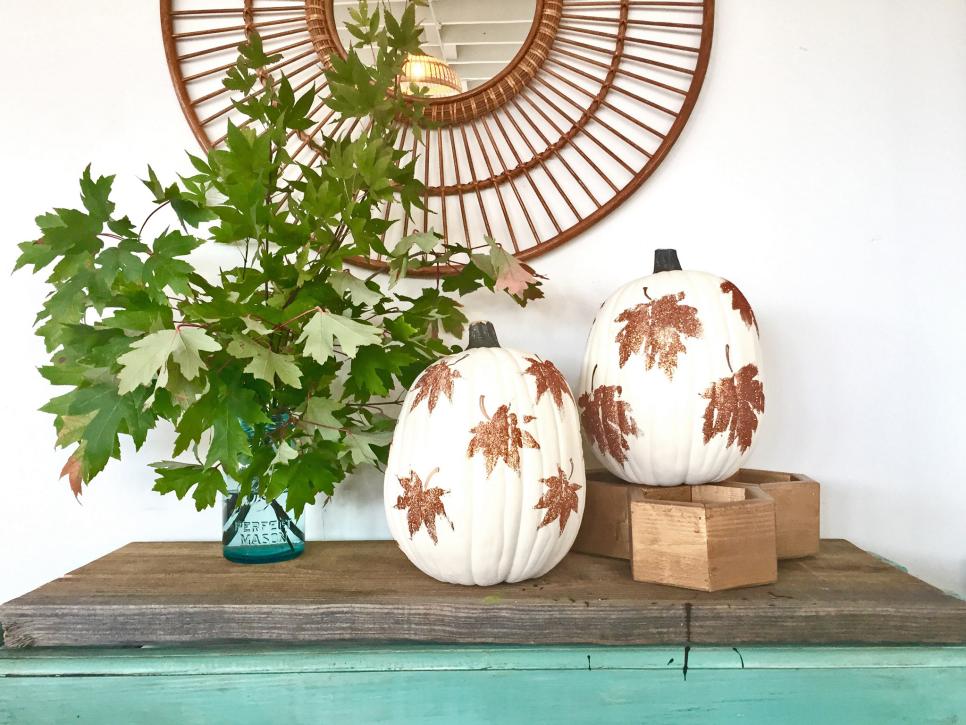 Go Glam
Welcome to the simplest high-impact DIY of the fall: these beauties come together with little more than glue, coppery glitter, a paint pen and fresh green leaves brought in from the yard. Now, if we could just figure out how to upcycle lawn clippings as a craft.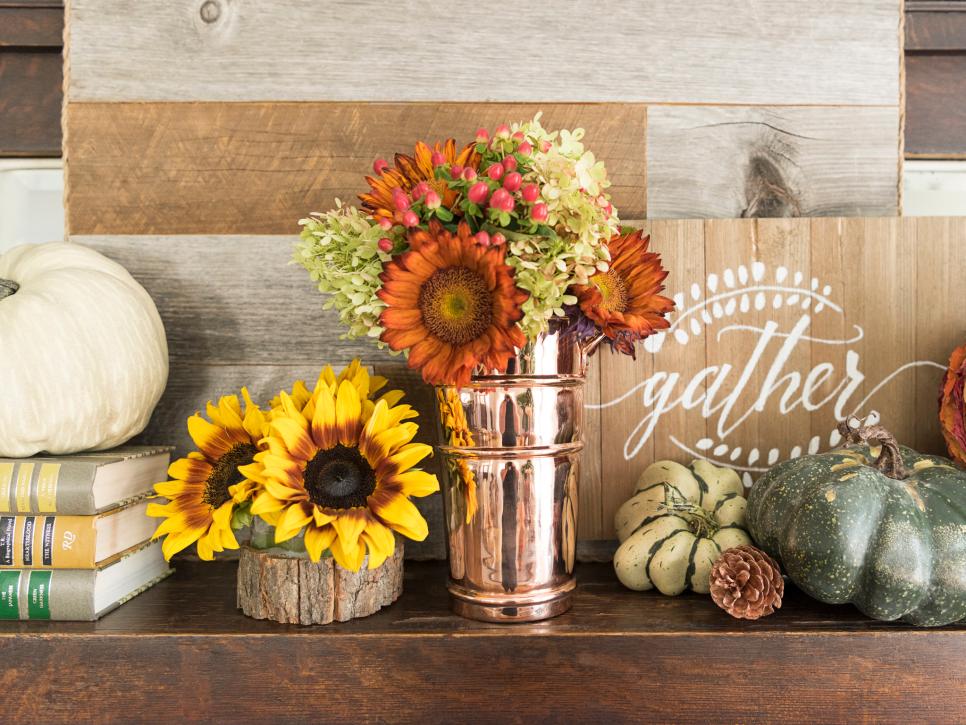 Line the Mantel
Give your mantel a festive fall fix-up with the additions of cozy autumnal hues. Classic copper and heirloom pumpkins pair perfectly in this Instagram-worthy display.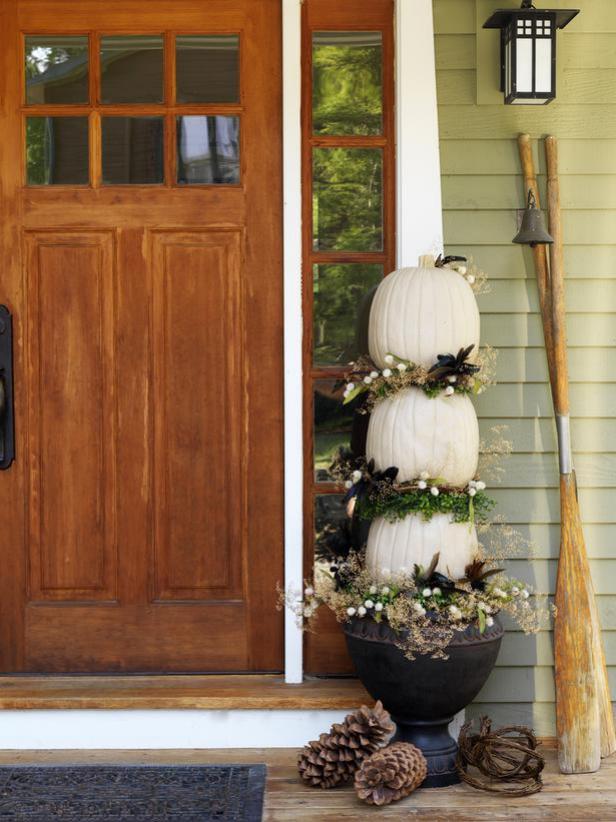 Create a Topiary
With apologies to shapely shrubs like myrtle and cypress, this trio of faux white pumpkins stacked on a footed urn could be the all-time coolest way to add living sculpture to your front porch. Reach for a neutral mix of fresh foliage, blooms and dried grasses and flowers to add texture and stabilize your stack.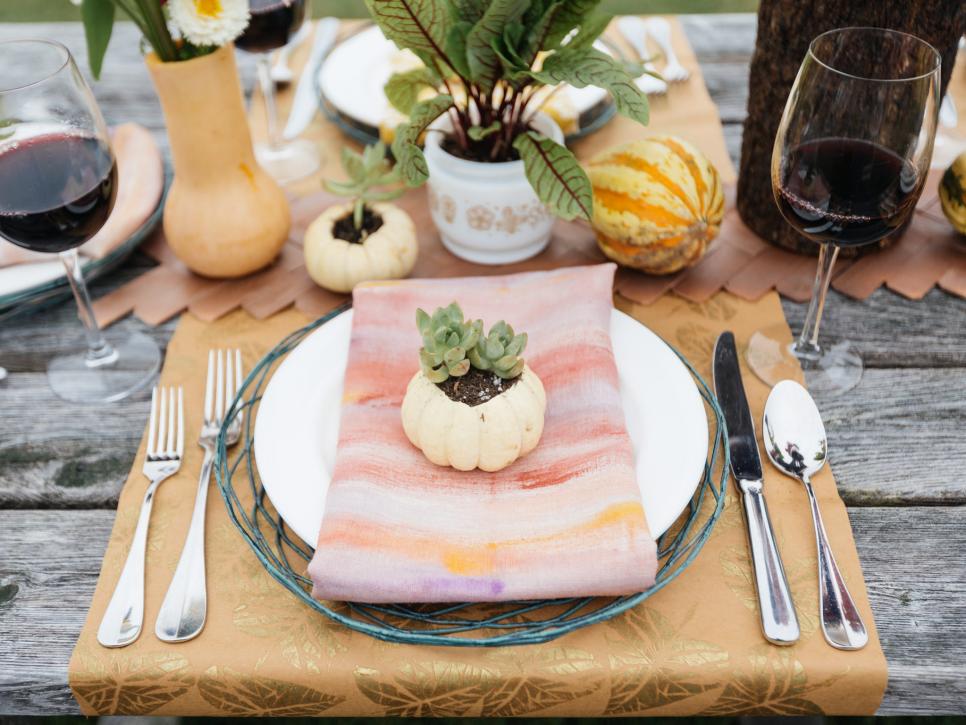 Make a Succulent Planter
Mini white pumpkins make adorable vessels for small, sculptural succulents. A fun project for kiddos to help with, use these festive creations to mark each place at dinner or display them throughout the house.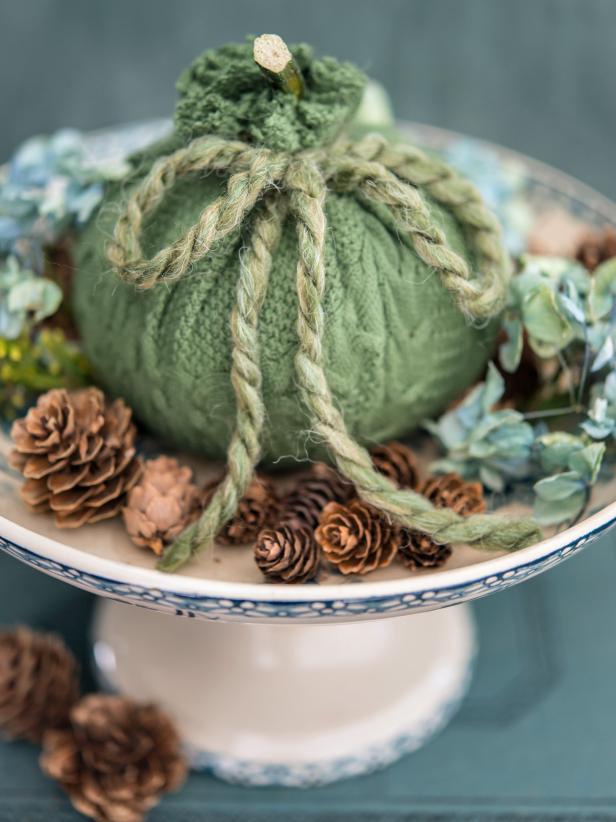 Cozy It Up
The sweater you can't bear to wear for another year (or accidentally shrank in a hot dryer) is just the thing for dressing up a pumpkin and adding nubbly texture to a fall arrangement.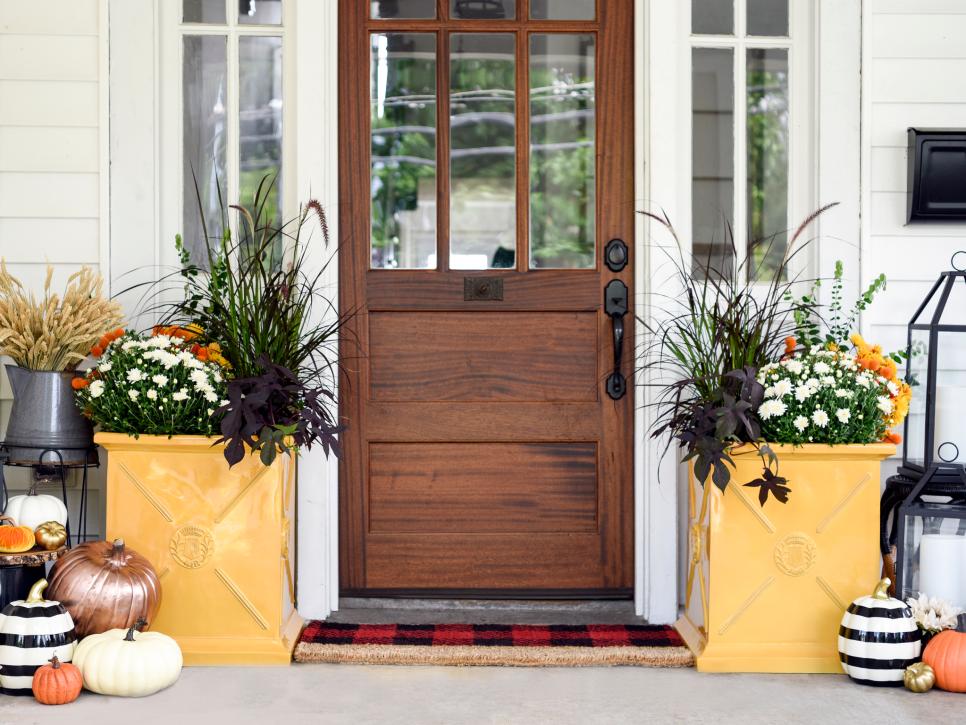 Go Graphic
Don't get us wrong, we're suckers for cleverly carved jack-o'-lanterns, but striped, metallic and textural beauties like these are curb-appeal MVPs that set a seasonal tone all autumn long. Get eclectic by mixing in striped faux versions, grabbing a few fabric pieces and splashing out with metallic spray paint.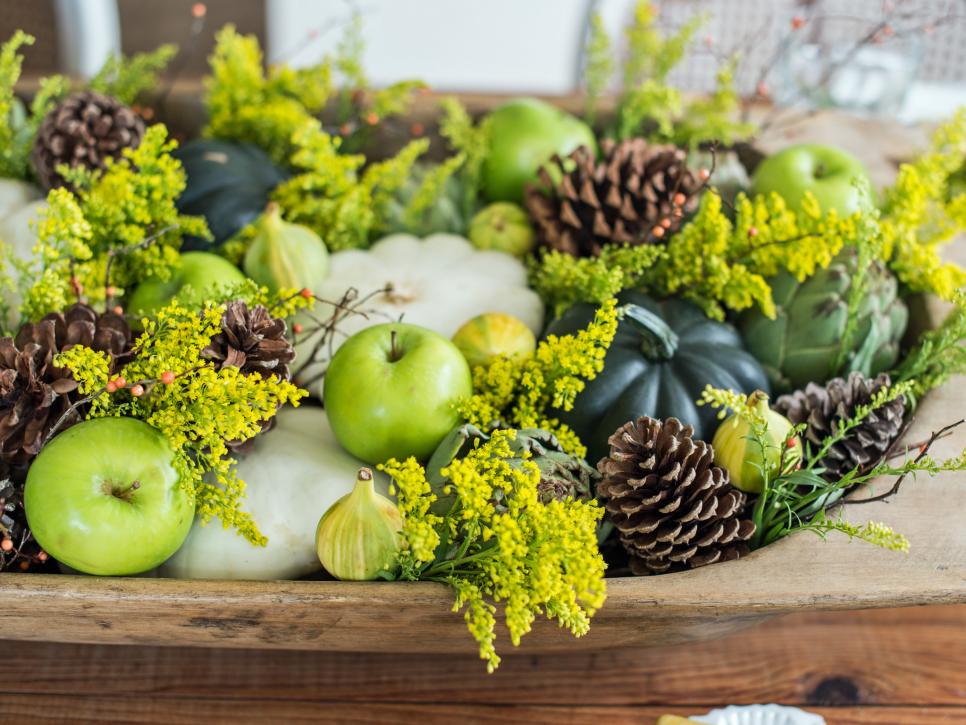 Nestle Into Arrangements
Too pretty to just store out of sight, a vintage dough bowl is begging to be filled and put on display. When selecting items to fill your dough bowl, skip the traditional fall favorite — orange pumpkins — and instead add pops of green, white and yellow.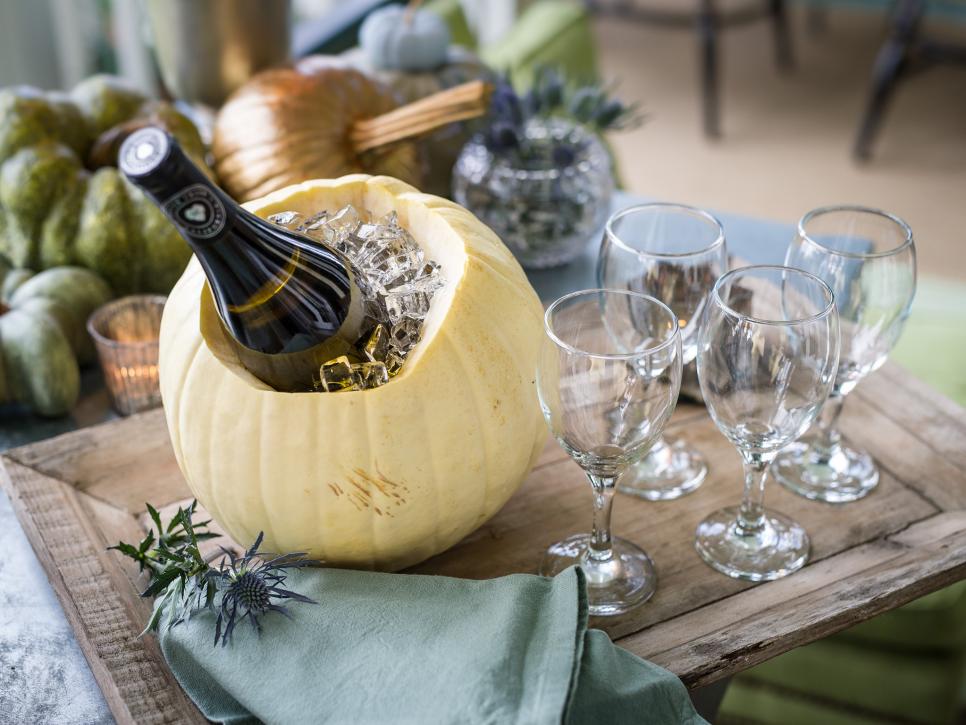 Craft a Wine Cooler
Champagne buckets are well and good, but the look of this casually chic white pumpkin is even better. Compostable party decor? Yes, please.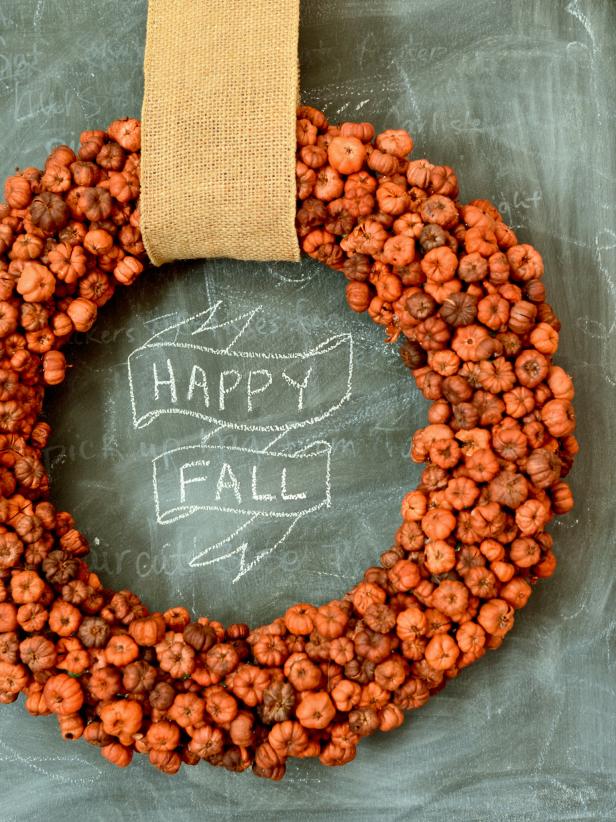 Whip Up a Wreath
Instead of making a wreath with bulky plastic gourds, try using putka pods, which are naturally dried seed pods that look exactly like tiny pumpkins. This wreath makes an elegant fall statement that can be displayed year after year. Pro Tip: Be sure to store putka pods in an airtight container, as mice love them even more than crafters do.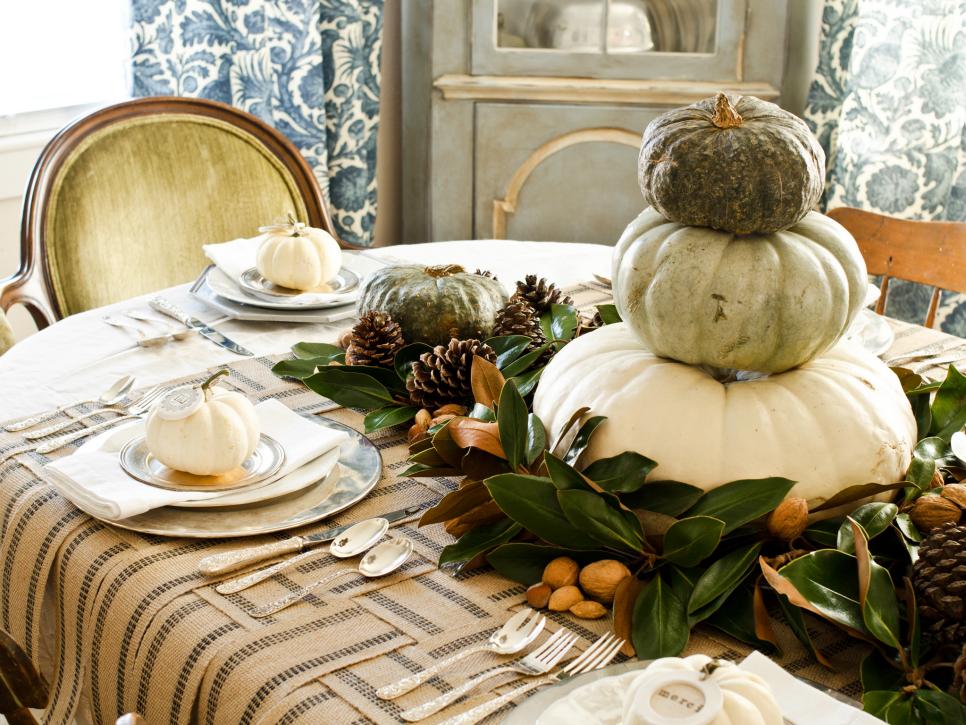 Stack as a Centerpiece
Heirloom pumpkins like this trio are ideal for a dining table display since they're flatter than the varieties we carve as jack-o'-lanterns. Double down on the look by using miniature white pumpkins on chargers at each place setting.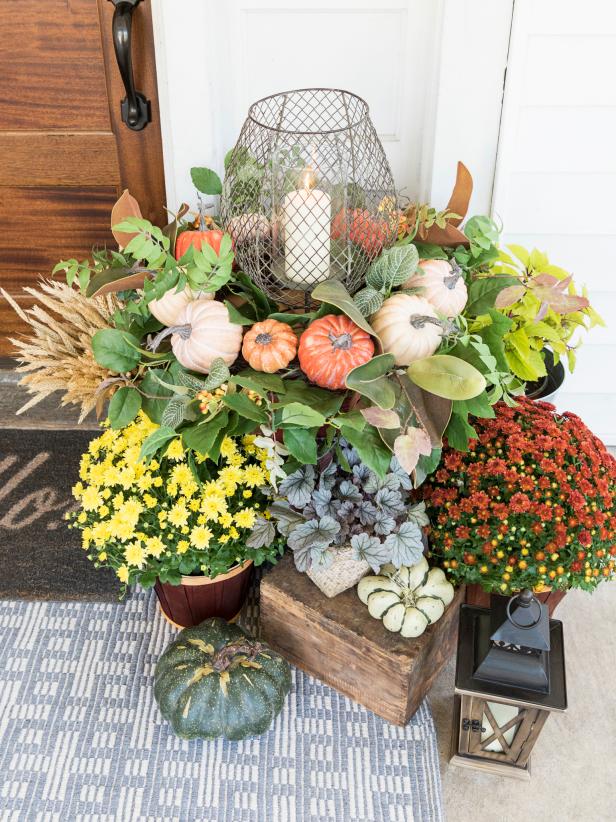 Surround a Lantern
Planters filled with a candle lantern and an assortment of pumpkins, gourds and fall foliage are easy-to-craft, high-impact decor pieces that will suit the season from now until Thanksgiving.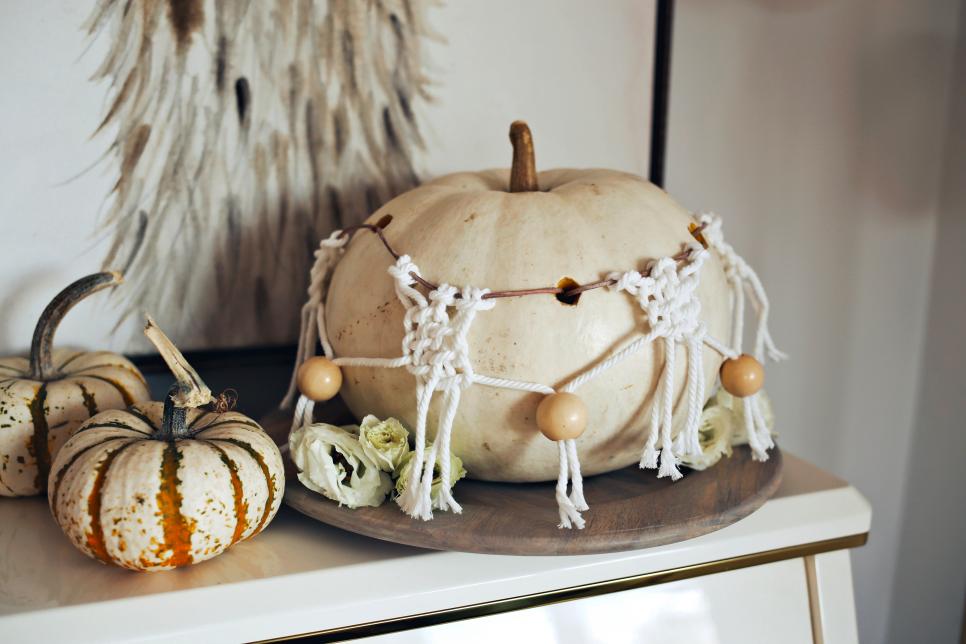 Go Boho With Macramé
A bit spiderwebby, a bit '70s and entirely cool, this hollowed-out pumpkin is laced with leather and draped with simple cotton knotwork. Thanks to the holes you'll create to thread the leather cords, this piece doubles handily as a luminary; just tuck a flameless candle inside to cast pinpricks of light throughout your space. Stevie Nicks would be proud.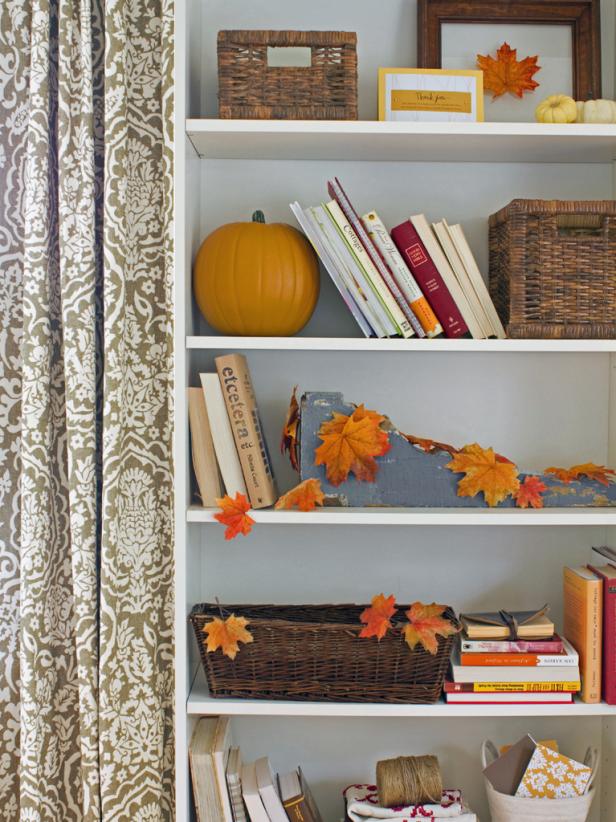 Embellish a Bookcase
Mini pumpkins are ideal for layering on shallow shelves with colorful leaves, and the big guys are heavy enough to serve as seasonal bookends. Bonus points if you perch them beside spooky classics like Washington Irving's The Legend of Sleepy Hollow.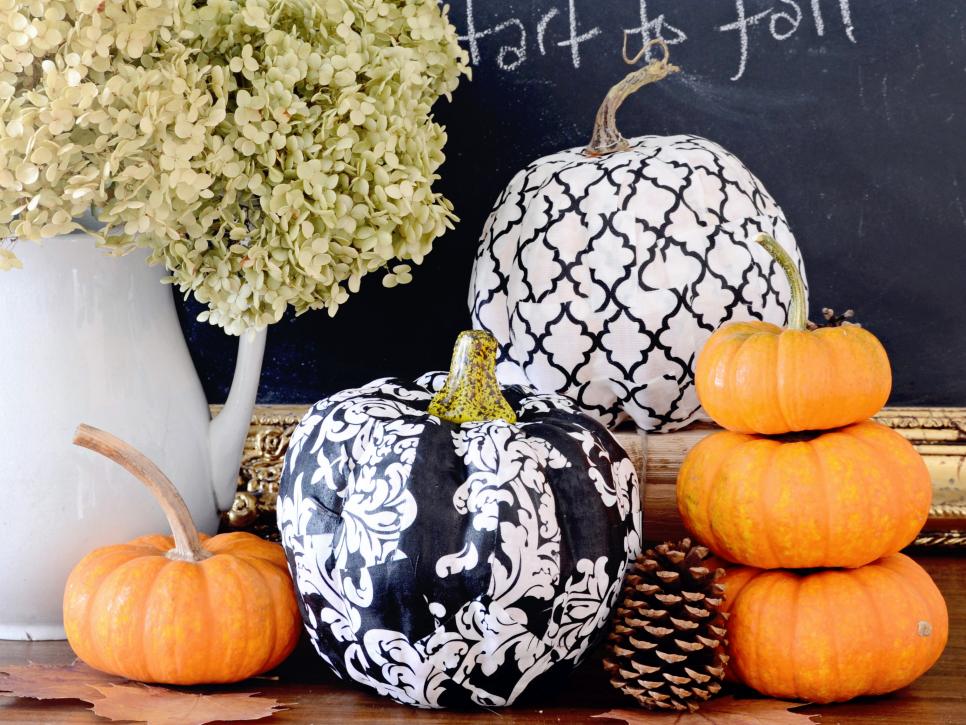 Get Fancy With Fabric
Give fabric scraps or upcycled clothing new life — and give faux pumpkins with smooth texture and shallow ridges fashionable makeovers — with kid-friendly DIY decoupage. Could black and white be the new orange?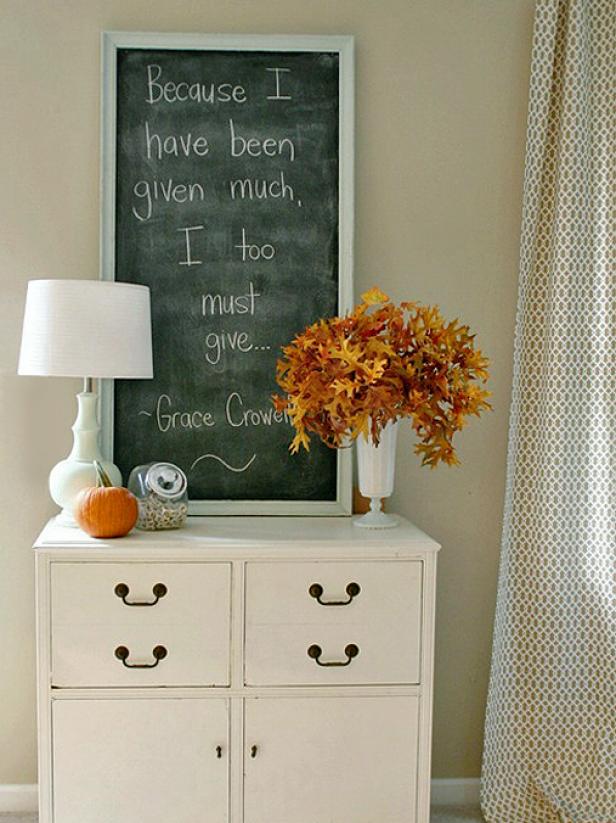 Accent a Neutral Arrangement
Sugar pumpkins like this little fella add autumnal color to pale tabletop arrangements like the pieces on this lovely vintage dresser. And in a cool space with lots of air circulation, they can last for several months after picking.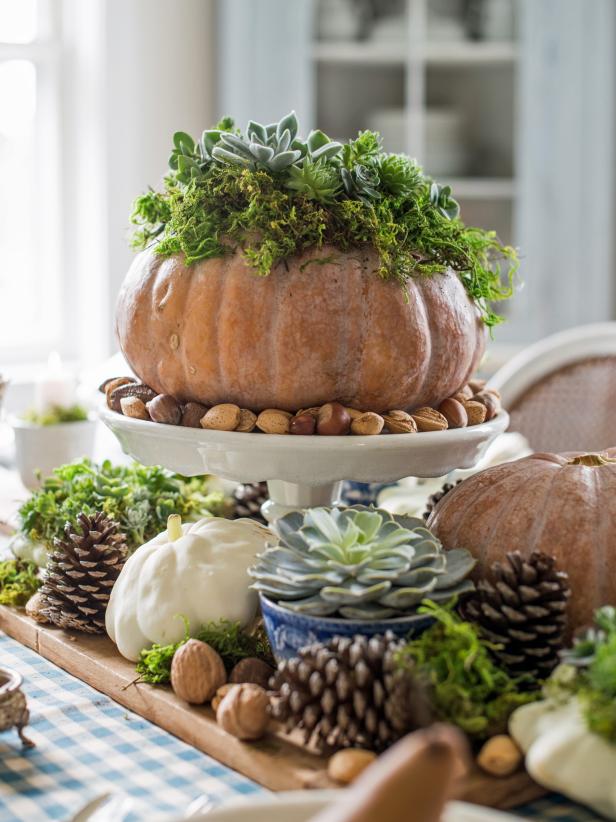 Top With Moss and Succulents
No spare planters at your place? No problem. Atop a simple cake stand, this heirloom pumpkin doubles beautifully as a one-of-a-kind seasonal vessel.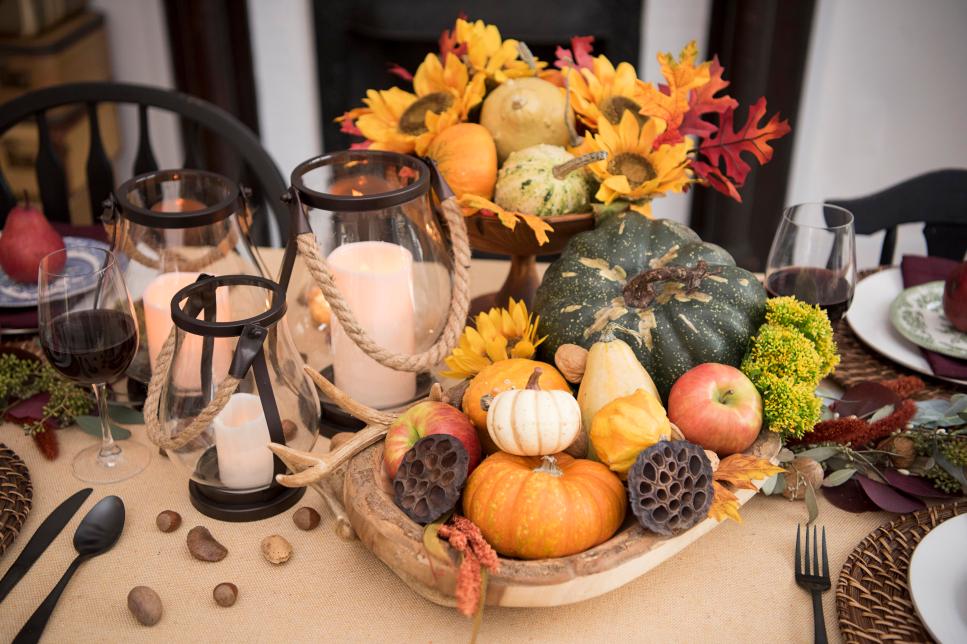 Mix It Up
Use a mix of gourds, seed pods and even sunfowers to create a feeling of eclectic abundance at the table. Think of a cornucopia as your inspiration here, and let your decorations flow (and overflow).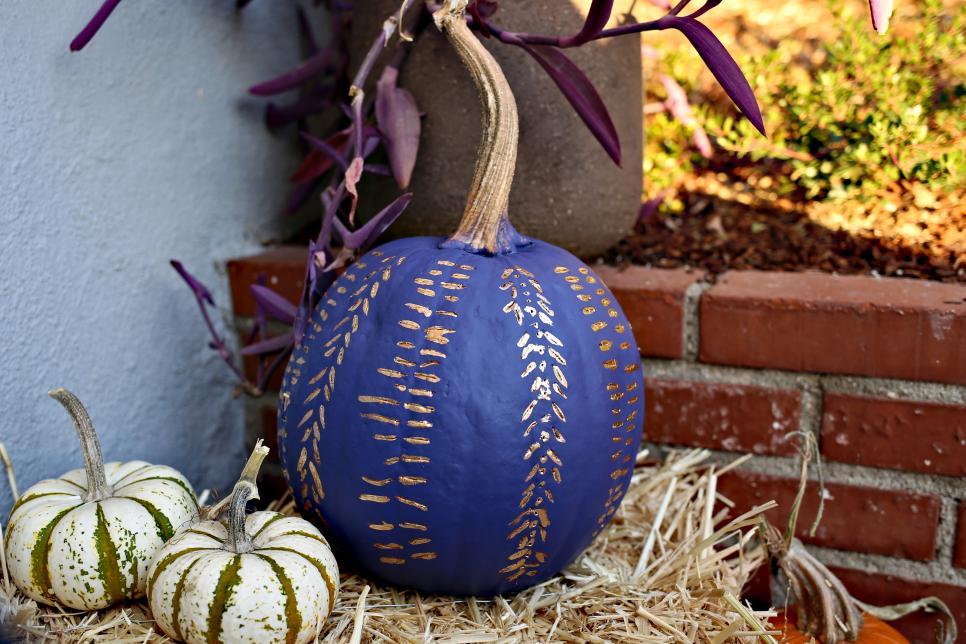 Take a Cue From Textiles
With a spray-painted base coat and pops of gold leaf, this pumpkin recalls the intricate patterning of Japanese textiles and African mud cloth. Patterning doesn't have to be perfect here — in fact, variation will add to the handcrafted-fabric look.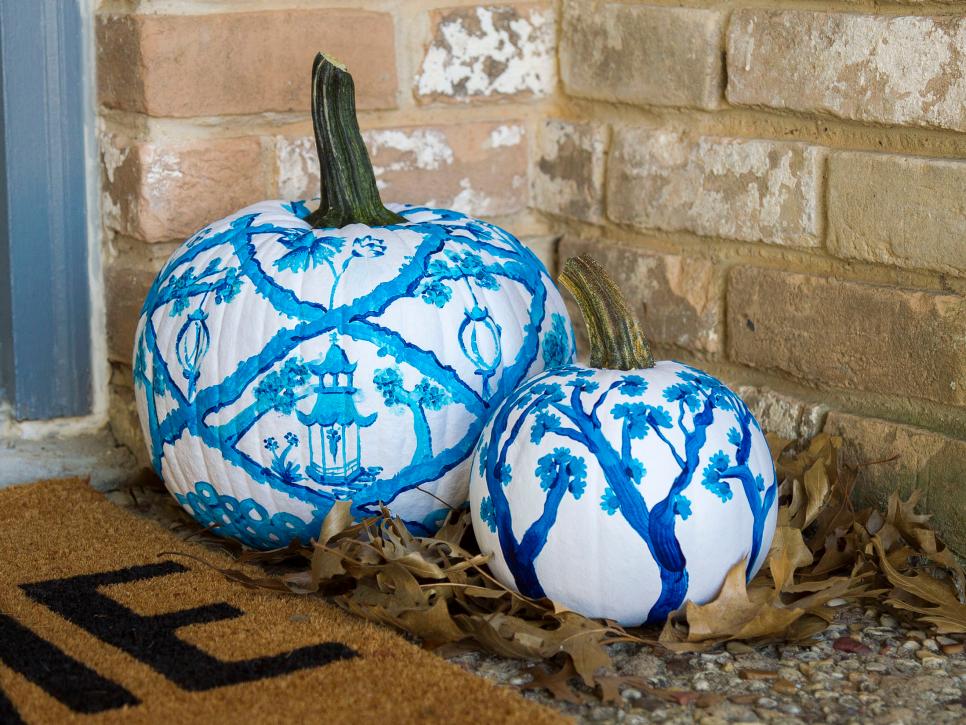 Channel Chinoiserie
If you're after a porcelain look, these hand-painted beauties look fabulous at the front door and pair well with ceramic collections and garden stools. Again, perfectly straight lines are beside the point: use three shades of paint in the same colorway to emphasize the low-tech heirloom vibe.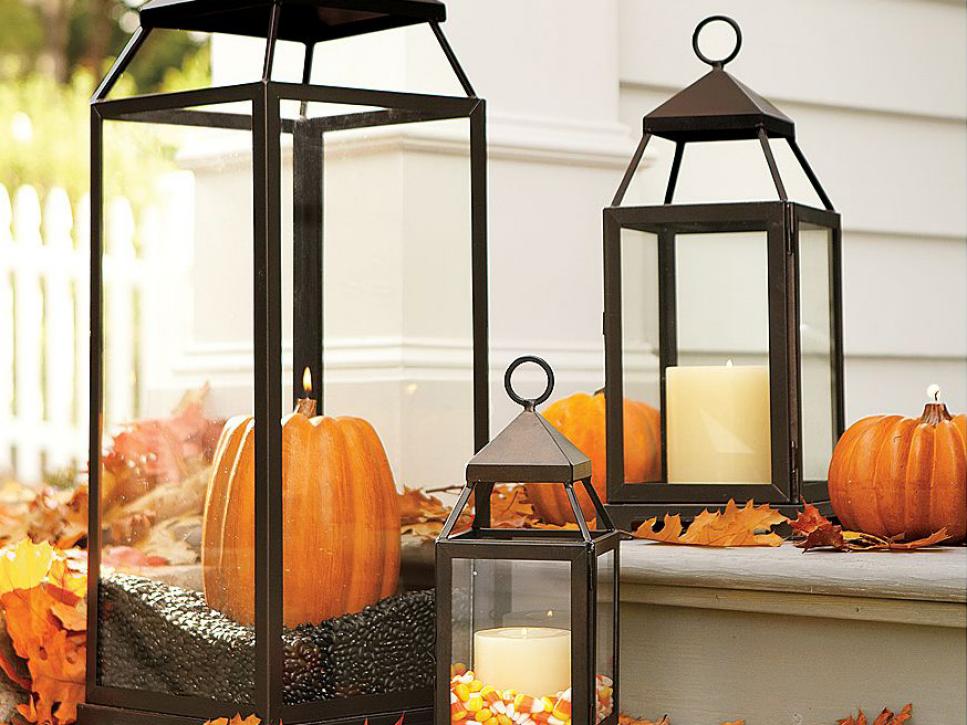 Display With Hurricanes
Yes, these are technically realistic pumpkin-shaped candles rather than pumpkins — but the look is a lovely one, no? Recreate an arrangement like this one with mini-pumpkin candles surrounded with inexpensive seasonal fillers like dried black beans and candy corn.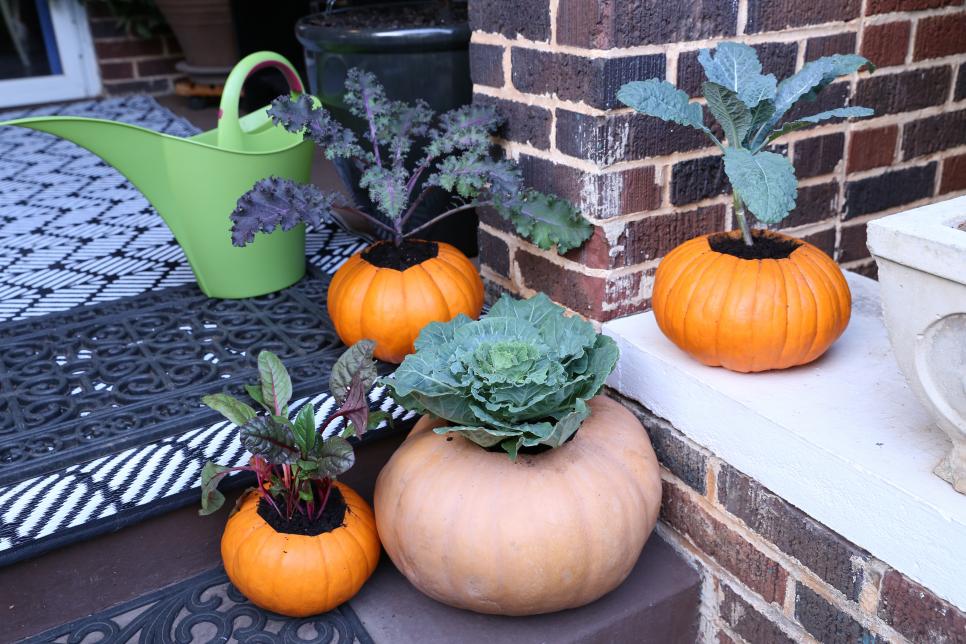 Plant Leafy Greens
Inexpensive ornamental plants like kale, cabbages and lettuces look right at home in pumpkins full of potting soil. Herbs will take root in containers like these as well — and how handy would it be to pluck seasonings for holiday dishes right from your own front stoop?
Create a "Guest Book"
Add gold glitter to the stem of a faux white pumpkin, then plunk a jar of black and orange markers beside it and ask visitors to leave their signatures on your decor. The loveliest thing about holidays, after all, is the friends and loved ones who share them with you.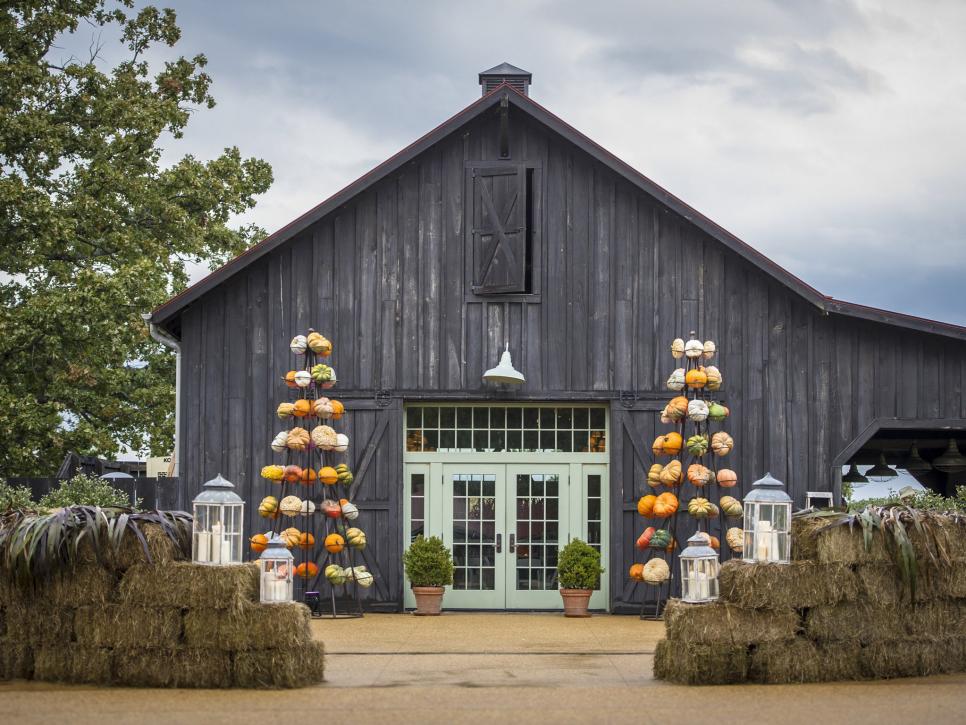 Repurpose Trellises
This look requires some serious commitment (and ideally, a big black barn). That said, a miniature version of this display with miniature pumpkins or gourds on a scaled-down cone trellis would be equally charming — and pretty useful for growing tomatoes next summer.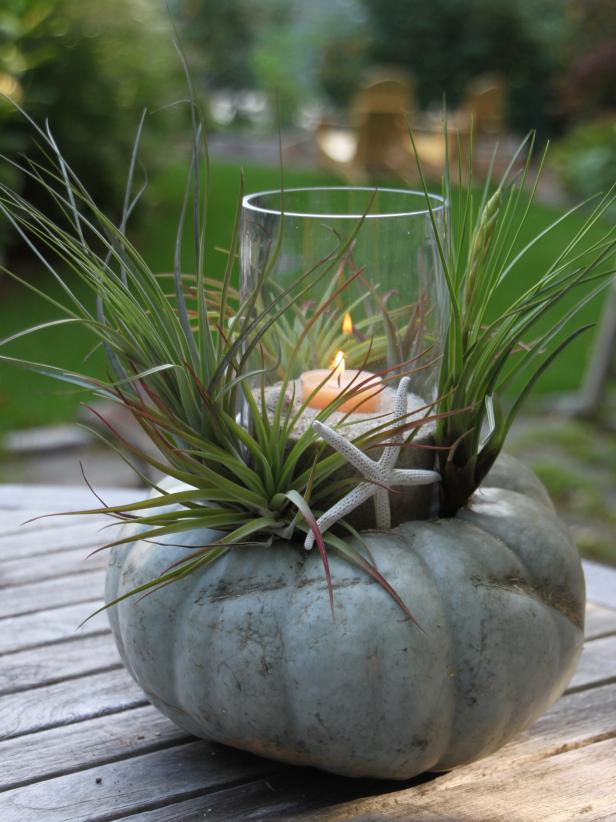 Head for the Coast
Use spiky grasses and a sand-filled, straight-sided glass hurricane to evoke seaside holidays. Double down on that beachy feeling by serving guests pumpkin spice punch (a very real and very delicious thing).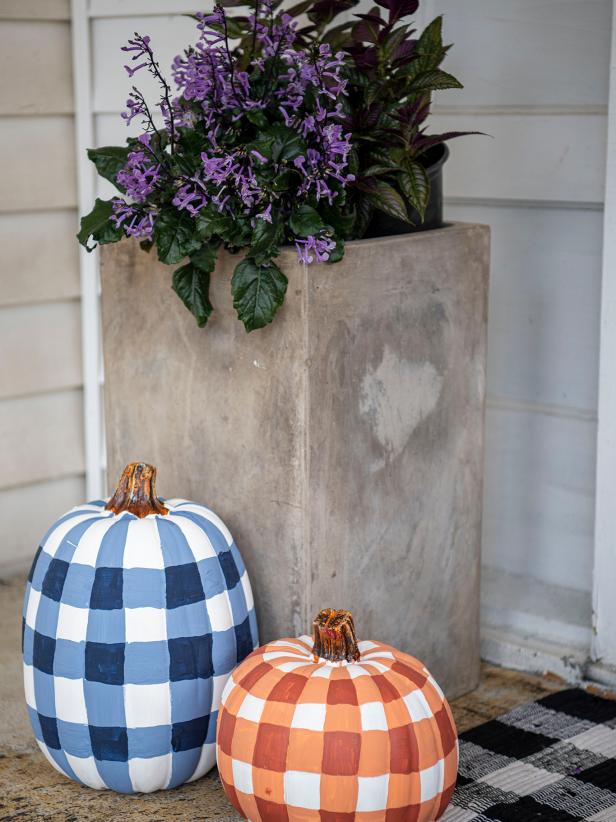 Go Mad for Plaid
Let flannel season extend to your stoop, where colorful beauties like these accent a buffalo check mat. If the shibori and chinoiserie pumpkins we featured earlier still feel intimidating, this craft is for you: with painter's tape to guide your hand, creating this pattern is a beginner's dream.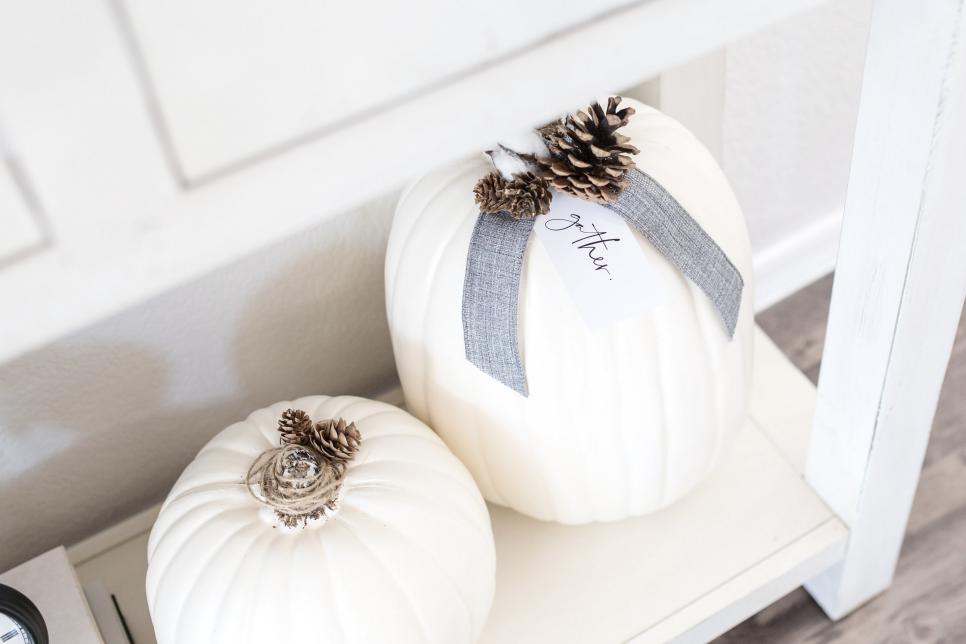 Think of Winter
Let faux white pumpkins straddle the seasons by adding simple, sylvan embellishments like twine and pinecones. Use a printable calligraphic tag to add a simple, universal message like this one.
Source: https://www.hgtv.com/design/decorating/design-101/fall-pumpkin-decor-ideas-pictures